On a recent holiday to South Wales I decided to investigate the Sefton roots in Brigend and Cardiff. I knew that Benjamin Sefton (My Great Great Grandfather was born in Worcester in 1819 and married Jane Mayers and in the 1851 census were living in Worcester with children Alfred (8), Herbert (5) (GGrandfather), Benjamin (3), Jane (1). In the 1861 census they were living in Brigend and had added Hannah, Sophia and Henry. This story is about their son Benjamin who was 15 in the 1861 census and described as an errand boy. In the 1881 census he was married to Jessie and had 5 daughters. He was running the famous Mermaid Hotel in Mumbles with 5 staff listed.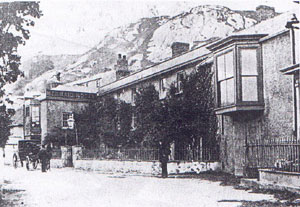 The Mermaid hotel in Mumbles at the turn of the century.
Why was it famous or infamous? When talking to the locals in Mumbles, everyone said it was the finest hotel on the seafront in Mumbles. The writer Dylan Thomas frequented it in the middle part of the century and the story goes he spent most nights in the bar there 'well lubricated'! The bar in the Mumbles became so famous it was renamed "Dylan's". The legend has it though it was haunted. I felt I must pay it a visit. To my horror I found it had just been demolished prior to my visit. Since I wrote this story, I have been contacted by Carl Smith who is a descendant of Hannah mentioned above. He was raised in Mumbles but has since moved away. He told me the Mermaid Hotel fell into disuse and squatters set the old hotel on fire and apparently it had to be demolished for safety reasons. Carl has published a book called 'Stroll through old Mumbles' which has photographs of the old Mermaid hotel.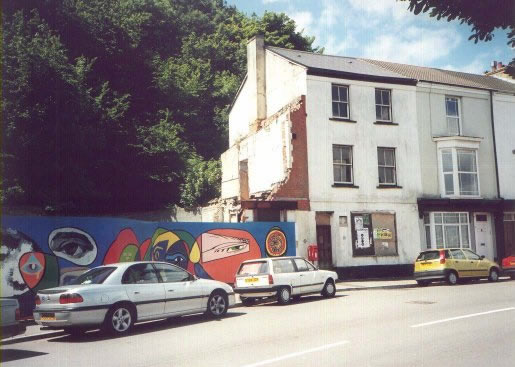 'The Mermaid' or all that was left of it in summer 1999.
My story ends with a visit to Oystermouth parish church in Mumbles and a look round the churchyard. To my disappointment I saw that all gravestones had been cleared for easy grass maintenance (an increasing trend in churches). However I saw that a handful survived around the edge of the graveyard. Amazingly one of them was the gravestone of Benjamin Sefton his wife and alas it looks like two of his daughters who died very young. Sadly it seems the family could not understand the premature deaths either with the inscription carved which says "We cannot lord thy purpose see, but all is well that's done by thee". Benjamin was only 36 when he died. Maybe the Mermaid did have a jinx upon it. Carl Smith told me that Benjamin's sister Hannah (who married Charles David Richards) looked after the remaining children after their parents died.
Click here to see the photograph of Hannah
.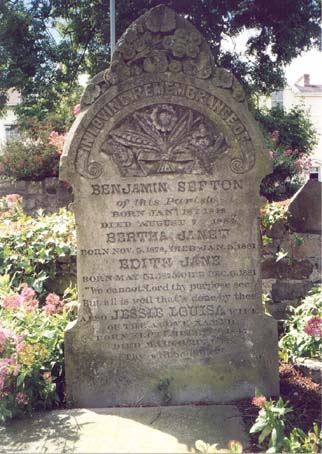 The headstone of Benjamin Sefton of the Mermaid hotel in Mumbles churchyard